The Breguet Marine Équation Marchante, an overseas discovery years in the making
Baselworld 2017 is over, and we take an introspective look at Breguet's overseas discovery. This article shines the spotlight on the crème de la crème of this year's novelties
Translated from the original French text
The great Abraham-Louis Breguet was a genius inventor and visionary watchmaker. He was also a skilled craftsman, aware of the need among sailors for reliable instruments to help pinpoint their position at sea. In this recap, we bring you the crème de la crème of Breguet's latest collection aimed at offering enthusiasts a different view of time.
Breguet Marine Equation Marchante 5887
Of all the pieces proposed this year, one reference stood out for me in terms of technical expertise and mechanical poetry. The Marine Équation Marchante 5887. A watch that gives us a unique slant on time-telling. It boasts a remarkable mechanical means to display time via the minute hands in two different ways. Throughout the year, the dial therefore unveils itself into a constant battle between real solar time and civil time. As the months and seasons progress, the two gradually part company, then draw slowly together, occasionally coinciding. In reality, there is a difference of around +14 to -16 minutes between mean time and real solar time over the space of a year. In fact, it is precisely 24 hours only four times a year. This discrepancy is because the earth's orbit is not circular, but elliptical, and civil time is an artificial division of time devised to arrive at a year comprising 365.25 physical days, each of which is exactly 24 hours.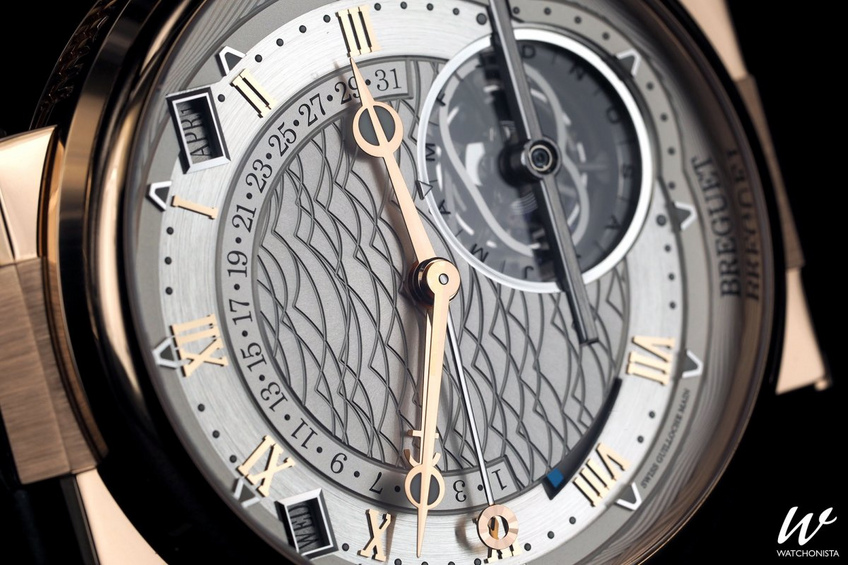 Breguet Marine Equation Marchante 5887
Back to basics
The highly-sophisticated mechanism dubbed the Équation Marchante combined with perpetual calendar feature permits the constant daily display of the difference between civil time (mean solar time) and real solar time. This rare complication might appear pointless for everyday use, but in the Marine watch it proves well worth it. For sailors, if the equation of time is unknown for the day in question, it is impossible for them to properly pinpoint longitude using tools such as the sextant (calculation of true noon of the place where the observer happens to be) and the marine chronometer (kept at the time at the point of departure or set to Greenwich Mean Time).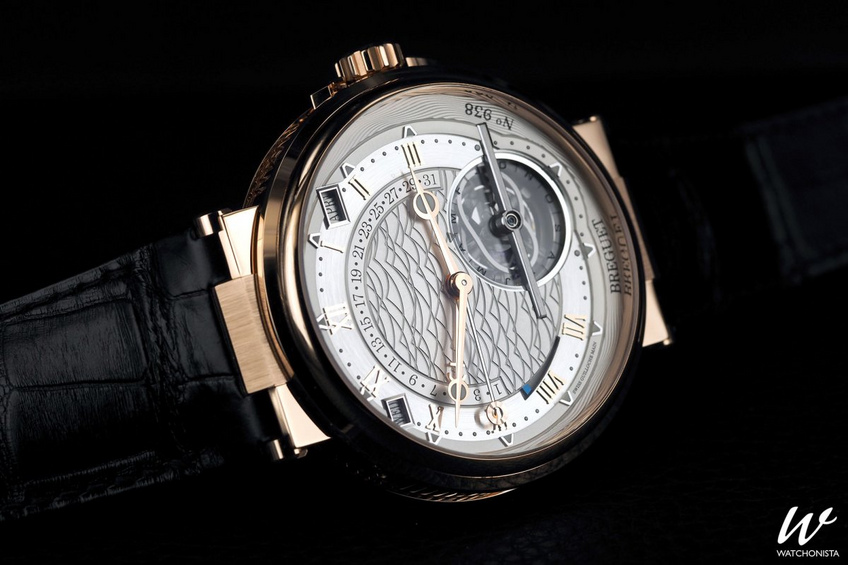 Breguet Marine Equation Marchante 5887
For those unfamiliar, the old calculation of longitude was performed by taking the difference between real solar time and error-corrected (for equation of time) chronometer time, and then referencing the current time in a nautical almanac. This complex math gave the sailor their exact longitude position. In the case of Breguet's Marine watch, the almanac was no longer necessary given that the time was displayed directly on the dial, thereby cancelling an operation and consequently ruling out any potential error in calculation.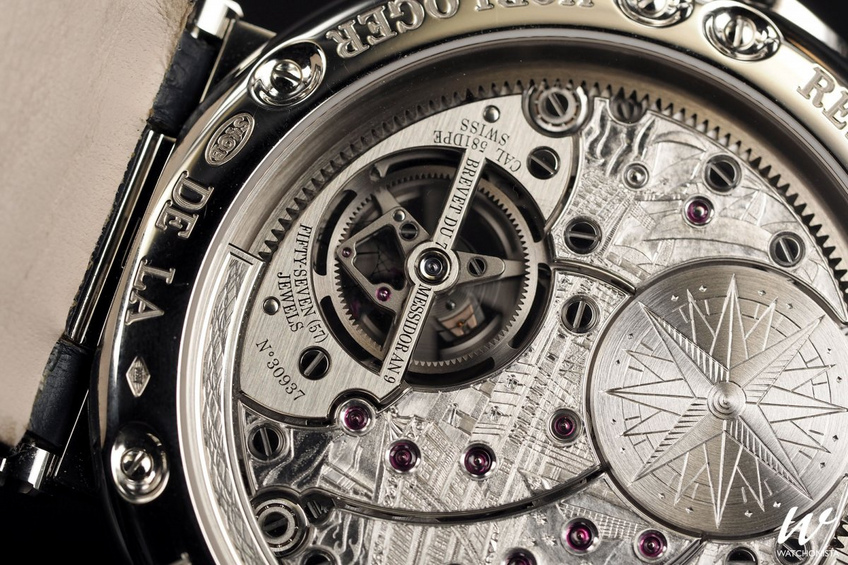 Breguet Marine Equation Marchante 5887 caseback
In memoriam
It should be noted that the timepiece is also regulated by a tourbillon, one of Breguet's greatest inventions, which he patented in 1801. It is also important to mention that its presence here is particularly meaningful since the first known tourbillon produced by Breguet was based on a marine chronometer belonging to his friend, John Arnold. The chronometer owned by Mr. Arnold contained an innovative escapement for the time, known as a detent escapement.
Breguet Marine Equation Marchante 5887 caseback
This nautical instrument par excellence also pays tribute to the history of Abraham-Louis Breguet. In 1814, Louis XVIII appointed Breguet member of the Bureau des Longitudes de Paris, a body founded in 1795 by the National Convention to help improve astronomical or horological techniques. One of the primary objectives was to create a better world map and thus permit the discovery of new lands beyond the oceans. In 1815, Louis XVIII awarded A.-L. Breguet the official title of horologer to the Royal Navy. It was a true form of recognition for the master watchmaker given the implication that the appointed expert is both an accomplished watchmaker and a renowned scientist. Clearly, the skilled engineer, inventor and scientist was totally deserving of the title and in creating this object he demonstrated his immense capacity for understanding the needs of his time.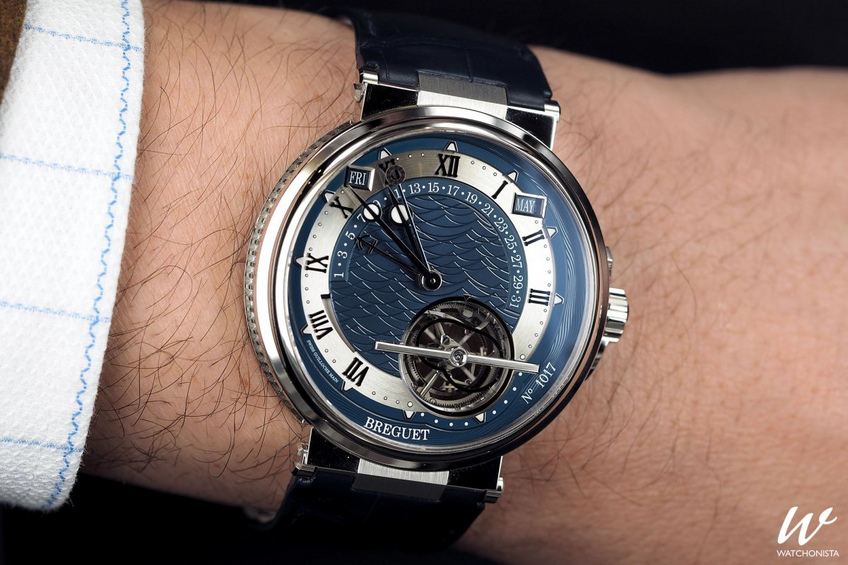 Breguet Marine Equation Marchante 5887
By
Vincent Daveau
,
Managing Editor France
This year, the Maison Breguet unveiled a series of pieces whose delicacy and masterful execution is bound to attract collectors both men and women.
By
Marco Cattaneo
,
Journalist
Led by CEO Marc A. Hayek, the brand introduces a minute repeater with components developed to achieve a specifically chosen sound. Furthermore, the Hora Mundi...